What is Your Favourite Self-Development or Inspirational Book?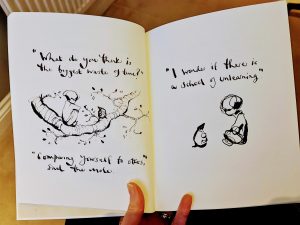 In celebration of world book day I thought I would make this post about the wonderful world of books!
I have a passion for books and a mildly addictive problem, as I buy more than I could possibly read in one lifetime.  I listen to audiobooks, I read fictional books for escape, and I read academic and self-development books for my work and for my own personal growth.  I even started a book club with some of my good friends.  I think it is safe to say I have a love of books!
Before I launch into my post I wanted to ask all you lovely people a question.  I personally think the best thing about books is finding out new and interesting reads from others.  What books have changed your mind-set, inspired you to make positive changes in your life, or even helped you through some difficult times?  Please comment below and tell us your recommendations.
I have so many books on this topic which have influenced my work and life.  However let me start with the stunningly beautiful book I came across only this week.  Interestingly it was recommended by my Taekwondo instructor.  It is called 'The Boy, the Mole, the Fox and the Horse' by Charlie Mackesy.  The photo above shows some pages from the book.  In all honesty I really struggled picking a page to share from the book, as there are just so many insightful, heartfelt and deep messages embedded in this wonderfully illustrated book.  I love that it is simple enough to be understood by young children (yes I have read it to my kids as a bedtime story and they loved it), and meaningful enough to be appreciated by adults.  It contains simple reminders of what could be considered the truly important things in life.  I also love that you don't need to start from the beginning and go all the way through, you could just open it anywhere and have a lovely affirmation for your day. This book really brightened up my week, and so I would highly recommend it for all ages!
I will create a short list below of some other books that currently sit on my bookshelf, which I found useful for self-development and/or inspirational purposes.  This list is by no means exhaustive, and we welcome further suggestions in the comments.  You will notice that I have quite eclectic tastes, and this is simply because I like to draw from a wide range of sources.  My musical tastes are much the same, perhaps to the dismay of my children.  Not all of these suggestions will be for you, and no doubt I have missed some obvious ones.  What is missing from this list that really changed your life??
'Feel the fear and do it Anyway' by Susan Jeffers
'Think like a Monk' by Jay Shetty
'Everything is Figureoutable' by Marie Forleo
'Long Walk to Freedom' by Nelson Mandela
'The Life Changing Magic of Not Giving a F**k' by Sarah Knight
'The 5 Love Languages' by Gary Chapman
'Staring at the Sun' by Irvin D. Yalom
'The 7 Habits of Highly Effective People' by Stephen R. Covey
'Atomic Habits' by James Clear
'The Chimp Paradox' by Prof Steve Peters
'Influence' by Robert B. Cialdini
Pretty much anything by Tony Robbins
'Six Thinking Hats' by Edward De Bono
'The Art of Being Kind' by Stefan Einhorn
'Parent Effectiveness Training' by Dr Thomas Gordon
'The Universe has your back' by Gabrielle Bernstein
'The Secret' by Rhonda Byrne
'The Autobiography of Martin Luther King' by Dr. Martin Luther King Jr
'The 4 Hour Working Week' by Timothy Ferriss
'The Wisdom of the Shamans' by Don Jose Ruiz
Happy Reading Everyone!